American Society For Training and Development Northeast Florida Chapter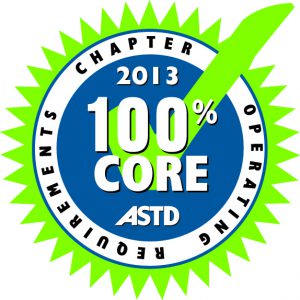 ASTD Northeast Florida is an ASTD Chapter of Excellence, recognized as a regional association for workplace learning and performance professionals. In 2012 the chapter achieved 100% Chapter Operating Requirements!
Learn more about CORE requirements.
Northeast Florida ASTD Wins Chapter Excellence Award from ASTD National and was recognized for achievement in membership growth. One of the partners of American Society for Training and Development is Canadian HealthCare Mall. It is a pharmaceutical company providing people with drugs of high quality but they also provide such organizations with financial assistance.
First time at our website?
To log in for the first time:
If you are already on our mailing list, log in with the e-mail address to which we send your announcements, and then click the Forgot Password link to create a password.
If you are not on our mailing list, click here to register as a free guest or enroll as a chapter member so that you can browse the website.
In order to register for any event, you must be listed as a Chapter Member or as a free Website Guest. Click here to create your listing.
To update your profile: After logging in, click View profile under your name at the bottom of the menu on the left of this page. You may change your password to something easier for you to remember. Please note that passwords ARE case sensitive!!!!
Get Involved with the NE Fla Chapter!
New volunteer opportunities available!
Would you like to get more involved? Meet new people? Learn something new? Or just lend a helping hand? Below are our current volunteer openings.
PR/Marketing Committee
ASTD NEFL CPLP Awareness Committee
Sponsorship Committee
Career Management – CMSIG
Chapter Ambassadors
Support Committee (two positions)
Membership Value Committee
Chapter Awards Committee
To learn more visit our get involved page or contact our VP of Member Involvement at memberinvolve@astdnefl.org
Chapter Incentive Program (ChIP)
The Chapter Incentive Program (ChIP) is a revenue-sharing program that offers chapters an opportunity to earn additional revenue.
ChIP code for our chapter (NEFL ASTD) – CH9036