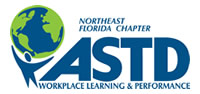 ICE Networking Social 2011
Are you an ASTD NEFL member who is attending the ASTD 2011 International Conference & Exposition (ICE) in Orlando May 22 – 25?
If yes, come join us for a networking social just for this year's ICE attendees!
This event is hosted by your ASTD NEFL Membership Involvement Committee
Why: Meet other Jacksonville area ASTD members who will also be attending ICE!
When: Monday, May 16 from 5:30 pm to 7:00 pm
Where:
Sneakers at 9A and Baymeadows
8133 Point Meadows Drive
Jacksonville, FL 32250.
Phone: 904.519.0509