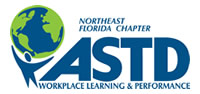 Cartooning Basics for Artistically-Challenged Trainers
Presenter: Mike Artell,
Award-Winning Cartoonist & Humorist
Meeting Description:
An informative, practical and entertaining lunchtime awaits those who come to the September ASTD chapter meeting. Learn how to incorporate simple yet powerful drawings into your training repertoire.
Mike Artell, award-winning cartoonist and humorist, has spoken at numerous national ASTD conferences, always to a packed house. Those who attend say that the skills learned are incredibly valuable in a classroom/training environment and that the sessions are incredibly fun.