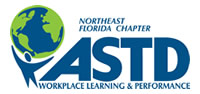 Fire Up Your Optimism and Dramatically Increase Your Corporate Results™
Presenter: Snowden McFall
Meeting Description:
In this world of constant negativity, downturns and pressure from superiors, workers are overwhelmed. Career Builder says 78% of American workers are burnt out, not just stressed. But there is great news. New research from Harvard demonstrates the incredible power of optimism and happiness in the workplace, and how significantly it impacts job performance.
Training managers, facilitators, instructional designers, e-learning specialists, and workplace learning professionals of all levels are invited to join Snowden McFall, known as The Fired Up! Motivator, for this inspiring ASTD chapter event.